[ad_1]


Crime
The federal judge noted Stavros Papantoniadis's criminal history in her ruling, including his multiple assault charges.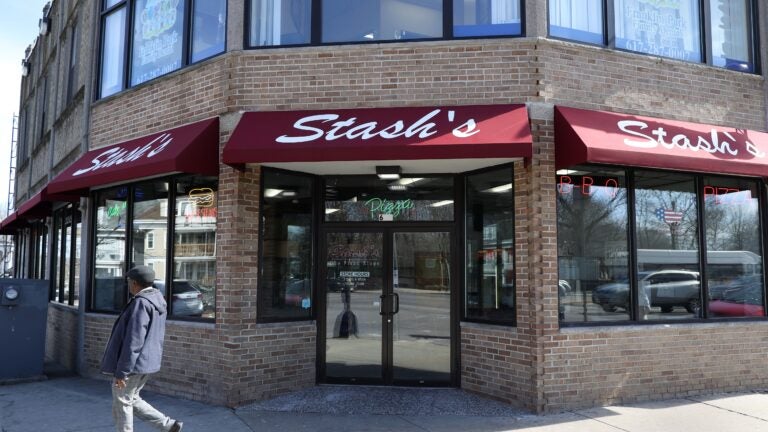 A Boston pizza shop owner accused of assaulting and exploiting his immigrant employees will remain in jail without bail, a federal magistrate judge ruled Tuesday. 
Stavros "Steve" Papantoniadis, who owns Stash's Pizza locations in Dorchester and Roslindale, is charged with one count of forced labor. He's accused of hiring immigrants lacking permanent legal status, threatening them with deportation, assaulting them, and forcing them to work long hours for low pay.
"At this juncture, the evidence against him appears strong," U.S. Magistrate Judge Judith G. Dein wrote in her ruling. 
Papantoniadis's lawyer, Carmine Lepore, told Boston.com in an email, "We respect the judge's decision, however we are pursuing avenues for relief from the order of detention."
Medical records filed in court document some of the injuries Papantoniadis allegedly caused his employees, including abrasions to one man's neck and wrist. Another employee required surgery and a catheter after Papantoniadis allegedly kicked him in the groin. 
Dein referenced a 2017 U.S. Department of Labor investigation concerning overtime violations at Papantoniadis's pizza shops, writing, "there is evidence that the defendant tried to intimidate at least one witness … during the investigation, told him to lie to investigators, and threatened him for being a 'snitch' who lacked immigration status in the United States."
The investigation resulted in Stavros and Polyxeny "Paulina" Papantoniadis being ordered in 2019 to pay $330,000 in back wages and damages to 150 current and former employees.
Dein also cited Papantoniadis's criminal history as a factor in her decision. 
In 1996, he was charged in separate incidents with assault and battery, malicious destruction of property, and assault and battery with a dangerous weapon — a pizza shovel, according to the ruling. One year later, he was sentenced to 2 1/2 years in prison — with one year committed — for motor vehicle homicide and leaving the scene of an accident, Dein wrote.
Papantoniadis appeared to reference that conviction in a conversation with a former employee, as documented in an affidavit written by a Department of Homeland Security agent and filed in court last week. The former employee told investigators that Papantoniadis "'put it out there' that he had spent time in jail" and told the man "not to mess with him," according to the affidavit.
Papantoniadis was also charged with assault and battery in 2000 and with identity fraud in 2003, but those charges were dismissed, Dein wrote. 
"The government has met its burden of proving by clear and convincing evidence that no condition or combination of conditions of release will reasonably assure the safety of any other person and the community," she wrote. "The defendant's history of violence and threats puts potential witnesses at great risk."
Newsletter Signup
Stay up to date on all the latest news from Boston.com


[ad_2]

Source link